Memorizing 1 Peter 1
Today I start to memorize 1 Peter 1. This is such a good chapter, and it's only two verse a week for 13 weeks. If you'd like to join me, head over to Do Not Depart and sign up today. (Also part of Hello Mornings Challenge, but all the groups are now full.)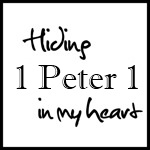 1 Peter 1: 1-2 (NIV)

1 Peter, an apostle of Jesus Christ,
To God's elect, exiles scattered throughout the provinces of Pontus, Galatia, Cappadocia, Asia and Bithynia,
2 who have been chosen according to the foreknowledge of God the Father, (
Click to tweet
) through the sanctifying work of the Spirit, to be obedient to Jesus Christ and sprinkled with his blood:
Grace and peace be yours in abundance.
This doesn't look that hard to memorize, but I know my brain will mix up the provinces' names. It's okay with the Spirit's help, I will get this memorized this week. I wrote it on a 3x5 card and have it by my chair and bathroom mirror. My plan is to read it out loud a few times and then start to repeat it using the card as a prompt if needed.
Verse 2 is going to be great to have in my heart. Really, all week I will have "to be obedient to Jesus Christ" running through my mind. What an interesting week this is going to be. I'm excited to hide God's word in my heart and see how much he has changed me by the challenges I will face.
I pray that you have a good week, I have some fun posts coming up. Be sure to check back here or sign up for emails so you don't miss a post!
Blessings,
Leslie
I often Link with these
blogs
.